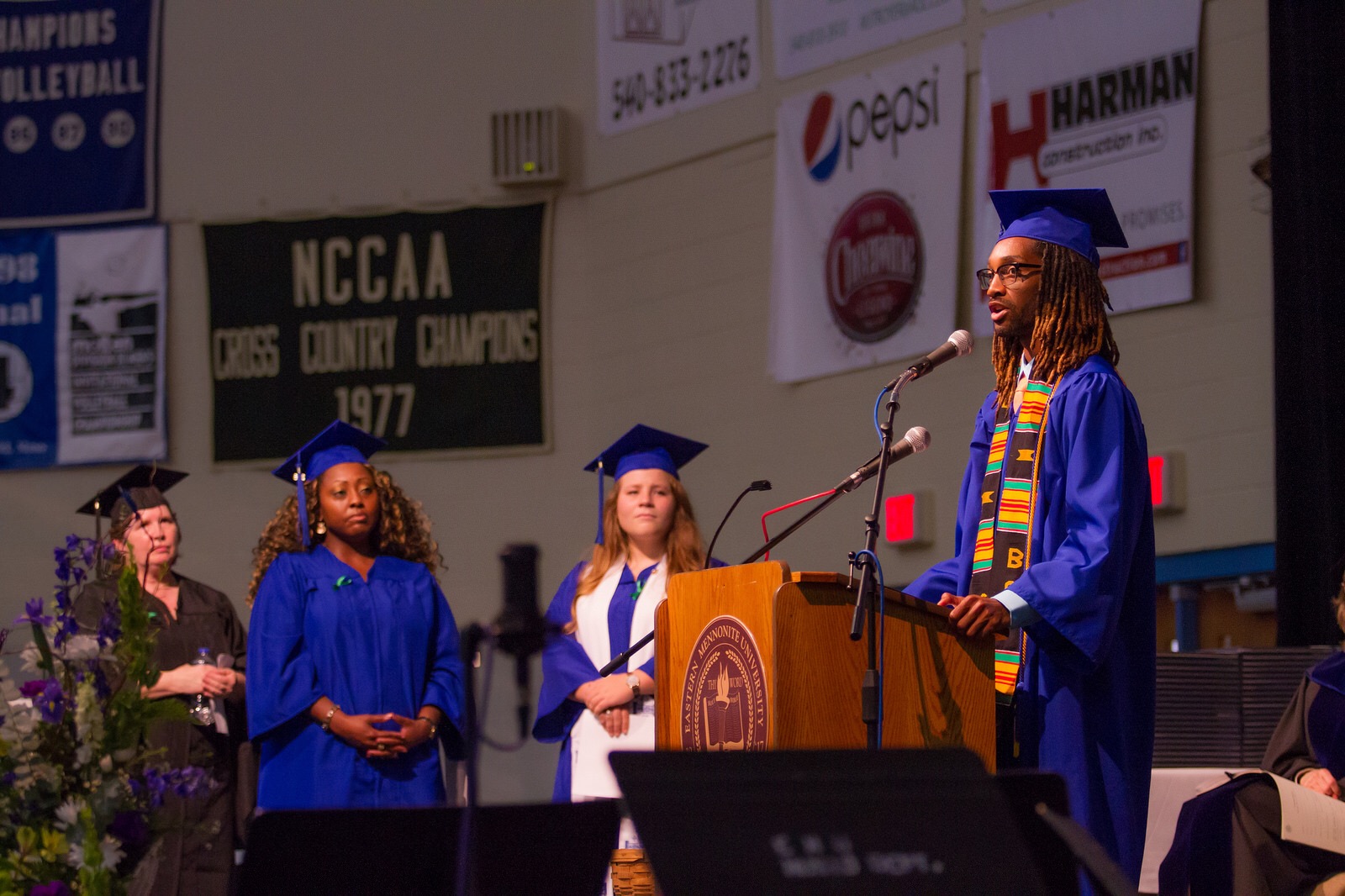 Well...I am proud to say that I have graduated from Eastern Mennonite University! What a wild ride it has been for sure. Honestly, I didn't think that I would make it this far but with God's grace, support from family and friends, and a little hard work thrown in the mix, I can finally say that "I made it."
EMU's class of 2016 voted for me to be one of two undergraduate commencement speakers. As soon as I found out that I was selected to be a speaker, I complained about it and thought of it as being something else to have looming over my head. After about 48 hours of thoughts and complaints, I thought to myself, "hey. You've made it this far. Go out with a bang!" I spoke about my experience as an undergraduate student and charged the institution to work on hiring more diverse faculty and staff. If you'd like, you can listen to my speech here or on EMU's Podcast (my speech starts around the 11:46 mark)!
Every year, EMU awards 10 seniors with the Cords of Distinction. These cords are awarded to seniors who have made outstanding contributions to the university, community or society. I've had my eyes on the Cords of Distinction since my freshman year of college. I wanted to get involved and make sure I got one. Besides graduating, receiving the Cords of Distinction was one of my biggest goals.
One thing is for sure. I'm going to miss the heck out of my friends, my teammates, my coach, and my professors. Not going to miss the work but I'll definitely miss those who made my experience as a college student easier to bear. It's going to be weird knowing that I'll be on "summer break" and not go back to campus to see everyone. What's really going to be weird is knowing that I don't have to train to run track anymore. That was a big part of my college experience. Even though I hated the workouts 95% of the time, being on the track team allowed me to mature, meet some great people, and allowed me to have some extraordinary friends.
Right now, I am laying my hat in Texas. It has already been a nice change of scenery and I can already tell that it will be another hot summer (if you have allergies, stay away from Texas). I can't wait to do some connecting and shooting with some of the local photographers as well. If any of my friends want to fly out and do some exploring and shooting with me, definitely let me know! There's plenty to do around these parts!
Annnnd...Another cool thing about graduating is finally getting a chance to get photographs taken by someone other than myself! Special thanks to Ashley Link for these photos before the Commencement Ceremony.